Spencer Fox, E.S. Fox Ltd.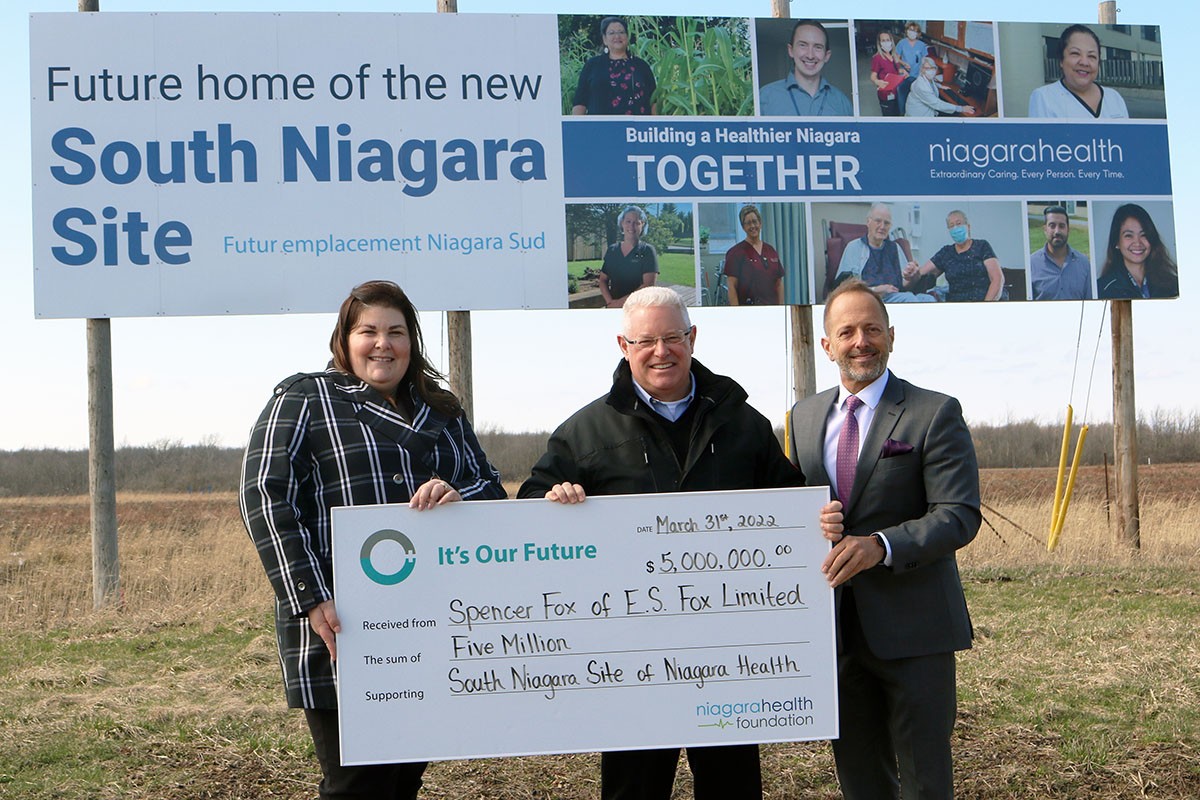 From left to right: Andrea Scott (Niagara Health Foundation), Spencer Fox (E.S. Fox Ltd) and Campaign Co-Chair Mayor Jim Diodati.
Gift Amount: $5,000,000
Gift Area: The Fox Family Centre of Excellence for Stroke
The Niagara Health Foundation is proud to recognize Spencer Fox of E.S. Fox Ltd. for his gift of $5 million to the future South Niagara Site of Niagara Health. Fox's investment is transformational for the delivery of healthcare in the Niagara region as we know it.
Spencer Fox is the third generation to lead E.S. Fox Ltd. – a multi-trade industrial, commercial, institutional, and nuclear constructor and fabricator, headquartered in Niagara Falls, with regional offices across the province. With a strong commitment to health, safety and the environment, E.S. Fox Ltd., has a reputation of being environmentally conscious, socially responsible, and continually putting people first. Philanthropy has always been a part of the Fox family. With a partnership that spans nearly four decades, Spencer Fox has been raising the bar for the Niagara Health Foundation. He recognizes that now, more than ever, the infrastructure of a hospital is an essential component in ensuring that local people have access to the highest quality of care.
Like so many others, Fox has felt the impact of cancer. In 1998, he took over the company when his father, Edward S. Fox, was diagnosed with lung cancer: "My father believed strongly in the hospital and thought it was important to keep the equipment and facilities as up to date as possible," Fox explained. In 2014, Fox's son, Ben – then, 15 years old – suffered a stroke, caused by a carotid artery dissection: a separation of the layers of the artery wall supplying oxygen to the head and brain, impacting his left side. Following his recovery, Ben has become a champion for raising money and awareness about heart disease and stroke – carrying on a legacy of giving back to our communities.
This life changing story is what inspired Fox to be a Founding Donor for the South Niagara Site, which will be home to various regional centres of excellence, specializing in areas such as stroke, seniors-focused care, and complex care for longer-stay patients. In recognition of his generosity, leadership, and commitment to giving back and creating meaningful impact for healthcare in Niagara, the Stroke Centre will be named The Fox Family Centre of Excellence for Stroke.