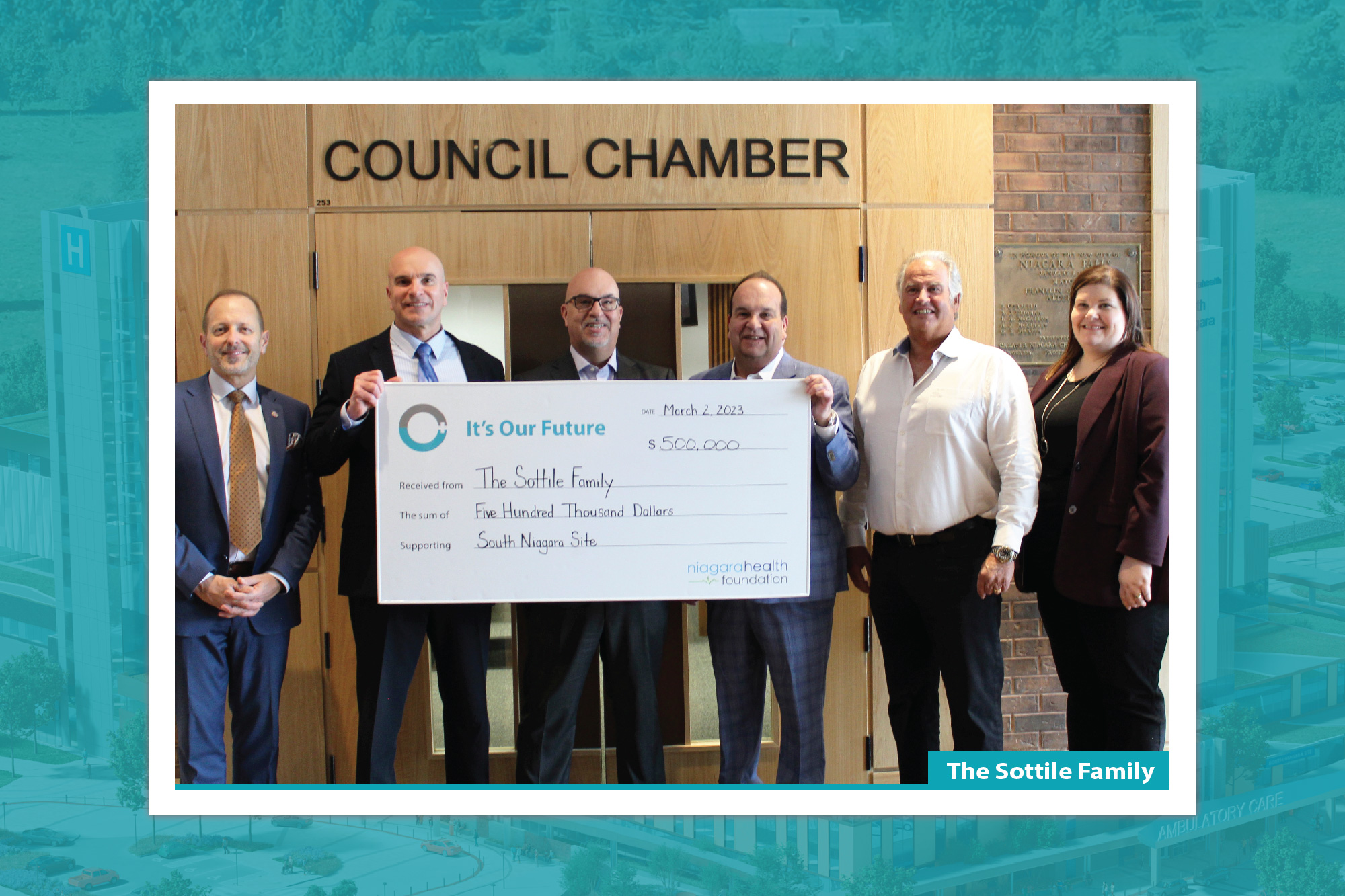 Gift Amount: $500,000
Area of Recognition: The Sottile Family Waiting Area
The Niagara Health Foundation is grateful to announce that the Sottile Family has generously pledged $500,000 to the It's Our Future campaign to support the new South Niagara hospital of Niagara Health. In recognition of the donation, the waiting area of the new hospital will be named The Sottile Family Waiting Area. The new South Niagara hospital will have 469 beds, adding 156 more beds to the region. It will feature centres of excellence in complex care, wellness in aging and stroke, a full-service Emergency Department and Intensive Care Unit, surgical care, dialysis, diagnostics and more.
Olsen-Sottile Insurance Brokers Inc. is a family-owned and operated insurance brokerage offering personal and commercial insurance in Niagara since 1980. Forty-three years after Phil Sottile and Brian Olsen opened their doors for business, Olsen Sottile Insurance still offers all types of Insurance for all your insurance requirements including personal, commercial, life, bonding and anything else that will provide protection for your needs.
Phil Sottile's sons, Paul Sottile and Terry Sottile, now run the business while Christopher Sottile is retired. They have followed in their fathers footsteps. Olsen-Sottile and The Sottile Family have a strong history of philanthropy and have been contributors to the Niagara Health Foundation for over three decades. Paul, Terry and Christopher credit their father for instilling the importance of giving back to the community at a young age. They see their gift as a great investment in healthcare for their friends, loved ones, colleagues, neighbours and community. They hope their gift will inspire others in the community to make an impact.
"Our father (Phil Sottile) has forever been involved in his community, supporting all those that need support. He was a leader in the fundraising for the first CAT Scan machine at the Greater Niagara General Hospital. He always instilled in us how important it is to give back to our communities. We at Olsen-Sottile, are honoured and proud to be able to give to the South Niagara Site. This is more than a donation, it is an investment in healthcare for our friends, our loved ones, our colleagues, our neighbours and our community. It is a legacy that will be here much longer than we will be. When you give back, you receive so much in return." – The Sottile Family
"The Sottile Family continues to be a community leader in supporting our mission; to help support the delivery of the best possible healthcare in Niagara. Through their donation, the South Niagara hospital will be well supported, and this is another shining example of what can be achieved when the community comes together." – Andrea Scott, President and CEO Niagara Health Foundation.
The new South Niagara Site of Niagara Health will feature a full range of healthcare services, including emergency care, inpatient and outpatient surgery, diagnostic imaging, and mental health and addiction services. The hospital will also have centres of excellence in Stroke Care, Aging and Wellness and Complex Care. In addition, the South Niagara Site will incorporate the latest technology and medical research to provide the best possible care to patients.
"Niagara Health is grateful to Olsen-Sottile Insurance for their generous donation. This important contribution will help us build a state-of-the-art facility to care for our communities and attract top medical talent to Niagara. We couldn't provide the level of care our patients deserve without this type of community philanthropy." – Lynn Guerriero, President and CEO.
"Olsen-Sottile Insurance now has a part in creating healthcare in Niagara that is on the leading edge. To Chris, Paul, and Terry, thank you for being an example of what community advocacy and philanthropy look like. We know that your donation will inspire others to be a part of this amazing new era of healthcare." – It's Our Future campaign Co-Chairs, Mayor Jim Diodati and Mr. Harry Oakes.
The Niagara Health Foundation is committed to working with donors like The Sottile Family to improve healthcare services in the Niagara region. Their support will help ensure that residents can access the best care they need.
The Niagara Health Foundation will continue to announce and celebrate the It's Our Future Founding Donors over the next few months and is so thankful for the donors that have supported the campaign. The Foundation has secured over $50 million in pledges to support the project's local share. To learn more about the It's Our Future campaign and the South Niagara Hospital, visit ItsOurFuture.com.