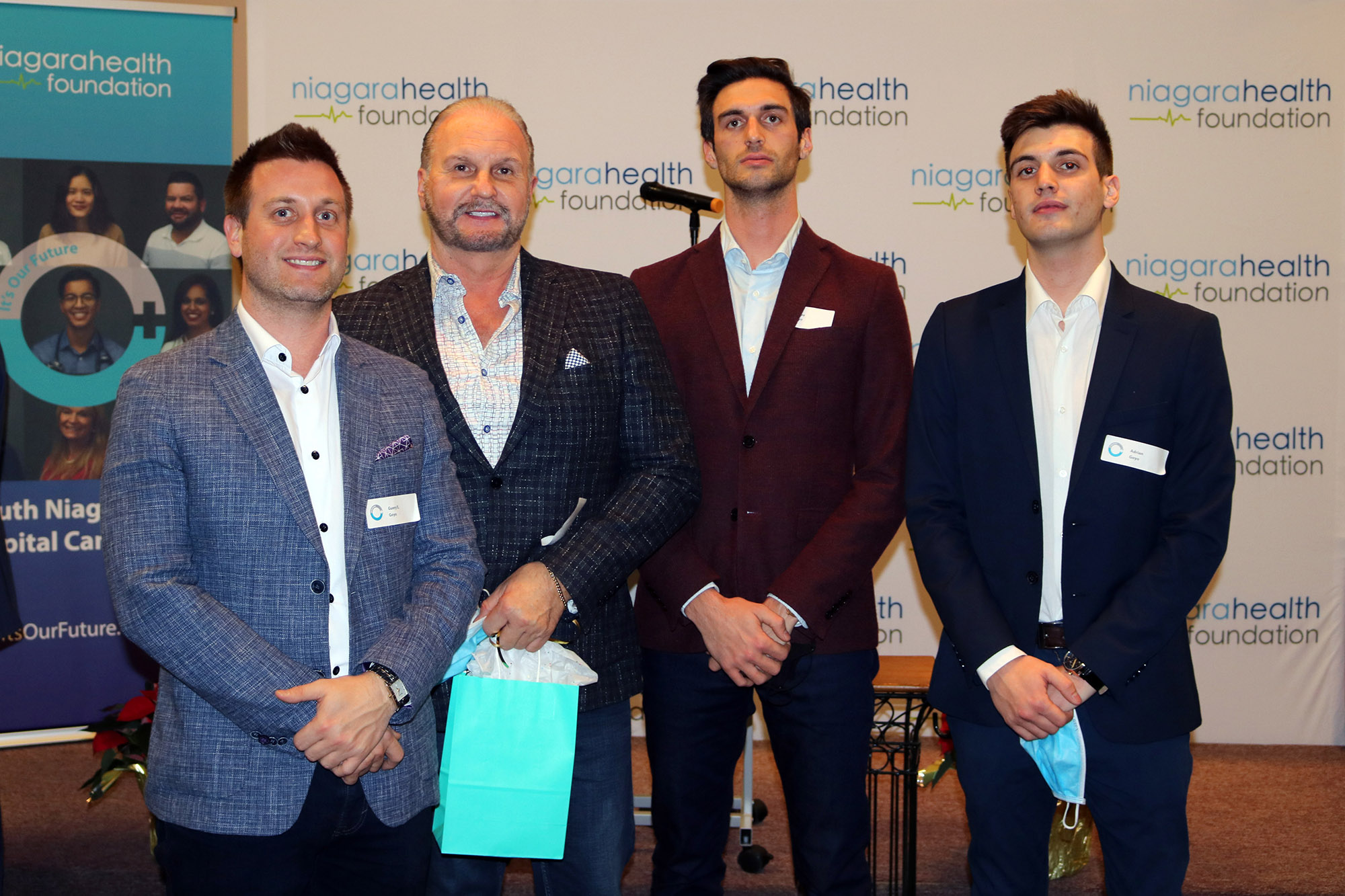 Gift Amount: $2,000,000
Area of Recognition: The G.R. Goyo & Family Orthopaedics, Fracture, Plastics, and MSK Clinic
The Niagara Health Foundation is proud to recognize Guery Goyo, President of Villarboit Group of Companies, for his gift of $2 million to the It's Our Future campaign for the South Niagara Site of Niagara Health.
Throughout their 36 year history, Villarboit has completed numerous commercial, industrial, and residential projects across Ontario, optimizing fully integrated, in-house capabilities to operate as a developer, contractor, and property manager for all matters of clients, tenants and partners.
As President, Goyo has completed construction projects totaling in excess of 1 million cumulative square feet, and over 800 cumulative acres of land development focused on the retail sector for his own and investor accounts, as well as third party owners and retailers.
Villarboit Group of Companies name honors Goyo's father, Dr. G.C. Goyo's hometown of Villarboit, in the region of Piedmont, Italy. In 1952, he immigrated to Toronto and established one of the first medical practices in the city. Dr Goyo's focus on helping the people and families of Toronto inspired the philosophy behind Villarboit's core values: to be a client, community, and service-oriented organization. Goyo's passion and commitment to his work have driven an overwhelmingly successful track record for all of his investors and partners.
Located directly off the QEW, Goyo is currently working on McLeod Square in Niagara Falls. While Goyo and his team at Villarboit are physically building new developments in Niagara Falls, his remarkable gift plays a significant role in building the new health campus and community asset that will be the South Niagara Site of Niagara Health.
"I've always wanted to support healthcare and a new hospital and was thrilled at the opportunity to donate to the South Niagara hospital. For me, it is a way to lay the groundwork for innovation in healthcare, and to fulfil a promise I made to my father (who passed away several years ago) to always give back to our communities," says Goyo. "Hospitals are the forefront and core of our healthcare system and the COVID pandemic stressed how much our society needs modern hospitals with great technology and state-of-the-art equipment. We have technology in our hands at all times, and people of all ages have cell phones, so why wouldn't we want the latest technology for our hospitals? Supporting this important project is a phenomenal and gratifying opportunity that will bring quality patient care to Niagara."
Goyo's $2 million gift to the new South Niagara Site is significant to the creation of a healthcare system that delivers the highest quality of care for patients and reflects the needs of the Niagara community. His dedication to building communities extends far beyond his developments, as Goyo is always looking for ways to benefit the lives of the people and communities that we all live, work, and play in, through his philanthropy – supporting many organizations that are bettering the physical and mental health of children, young people, and adults.
"Everyone should support the hospitals in their communities," explained Goyo. "Everyone needs the hope and healing that hospitals provide, at any and all stages of their lives. It doesn't matter what kind of support or how much support, giving to our hospitals goes a long way. The services and programs our hospitals provide are invaluable to our communities and your support goes a long way in building a healthier Niagara."
In recognition of Goyo and Villarboit's generous donation to the It's Our Future campaign, the Orthopaedics, Fracture, Plastics, and Musculoskeletal (MSK) Clinic area will be named the The G.R. Goyo & Family Orthopaedics, Fracture, Plastics, and MSK Clinic.
"Villarboit and Guery Goyo know that this is the single most important project that we will see in our lifetime in Niagara.  It's impossible not to want to help support it!  This is about being a part of something bigger than your own individual endeavours and Guery Goyo and his team know that this will make a collective impact on the future of our community!" – It's Our Future Campaign Co-Chairs, Jim Diodati & Harry Oakes.