The Angelo Butera Family, PANORAMIC PROPERTIES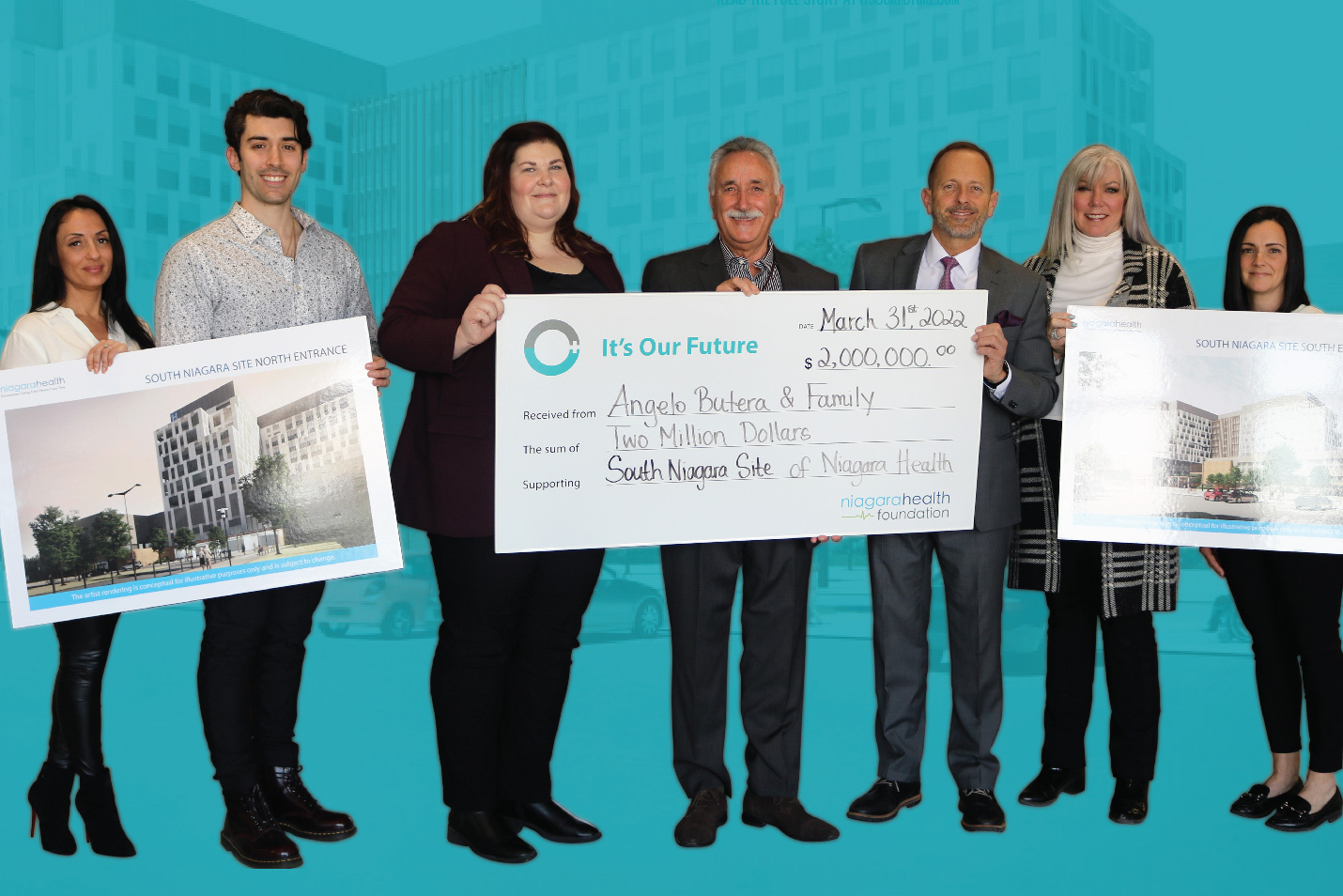 Gift Amount: $2,000,000
Area of Recognition: The Angelo Butera Family Seating Area
Giving back to the Niagara region is very important to Panoramic Properties President, Angelo Butera, and his family. The favoured choice of thousands who rent throughout the province – Panoramic Properties has a wide range of low-rise and high-rise apartments, townhomes, condominiums and single family homes with spacious bachelors including 1, 2, 3 and 4 bedroom suites in great locations.
From one building in Niagara Falls to properties all over Ontario – Angelo, a newcomer to Canada in 1972, and his team at Panoramic Properties operates with pride, integrity, quality, and conscientiousness – providing the perfect place to live – anywhere. The Butera family has been creating beautiful, affordable, and comfortable places for people to call home, for more than 26 years.
A true community leader – Angelo has grown his company from humble beginnings to be in a position where he can give back, and he knows that there has never been a more important time to invest in healthcare. In fact, taking care of his team, tenants, and the community is an ongoing priority for Angelo and Panoramic Properties.
Healthy citizens are the foundation of thriving, strong, and safe communities and by having exceptional healthcare nearby, you can preserve your quality of life. Angelo experienced this first hand, in 1991, when he was in an accident and broke both of his legs.
"Niagara Health provided high quality care, and an excellence patient experience to help me in my recovery to walking again. I wanted to give back because I want to do what I can for this beautiful region, as it made me who I am today. Excellence in healthcare means no cracks to fall through," explained Butera.
Angelo and his family have generously contributed $2 million to the new South Niagara Site of Niagara Health, coming to the Niagara region in late 2026. The South Niagara Site will be a 10-storey, 469-bed hospital that will feature a full-service emergency department, eight state-of-the-art operating suites, ambulatory mental health services, a regional stroke program, as well as inpatient and outpatient dialysis care, to meet the changing needs of our ever-growing and ever-aging population.
Demonstrating an incredible commitment to shaping the future of healthcare in Niagara, Angelo's $2 million gift is a driver for a new kind of health experience, where time spent in the hospital focuses on healing and heading home, and where there is support from a growing network of community-based health professionals.
"We couldn't be more grateful for the outpouring of community support we are receiving for the South Niagara Site so far.  Contributors like Angelo Butera and Panoramic Properties know that this project is a game-changer for Niagara.  It's so exciting to see so many people jumping on board to be a part of it!" said It's Our Future Campaign Co-Chairs, Jim Diodati and Harry Oakes
The Main Entrance Seating Area will be named The Angelo Butera Family Seating Area, in recognition of their generosity and commitment to creating functional, welcoming, and positive environments for everyone coming to the South Niagara Site of Niagara Health. Modern, efficient, and expansive in its reach, the South Niagara Site of Niagara Health is going to nurture a Niagara where everyone can live, work, and prosper, thanks to donors like the Butera family.